By Chad Hunt
My love of waterfowl hunting is secondary to my love of dogs and all that is involved with having a great retriever. I love waterfowl hunting because I am lucky enough to have a great retriever.
This is a story of the bond and the many trials and tribulations that my retriever, Boggs and I have had. It has turned into such an unlikely story, especially considering how we got started, and the low expectations I had.
Boggs came to me as a young pup with not-so-high expectations. I had a female yellow Labrador named Ellie, who I adored, and she was a very good hunting dog. I always believed in having more than one dog because they are a pack animal. I had just lost a black Labrador, Lucas, my very first, and Ellie and I were heart broken. The opportunity came along to get Boggs from the same breeder I got Ellie from.
Right from the beginning, everyone asked me if I was gonna hunt with Boggs (affectionately known as Boggsie). I was vehement that Boggsie was a house dog, and that Ellie was my hunting dog. I always said so with a little anger inside of me, mainly because I was still hurt by the loss of Lucas. To my fault, I was harder on Boggsie as a pup then I should've been. To the point that my wife had to tell me to give him a chance. She would always say, "Give him a chance, he's a very good dog." She was referring to me letting him bond with me, not so much for the hunting part.
Then one day a good friend of mine was in town hunting with me. We had put a few wood ducks on the strap, brought them home and started cleaning them. Unbeknownst to me, my buddy was out on the front yard with one of those wood ducks, playing with Boggsie, who was just a pup at the time. He came in and said, "I know you don't plan to hunt him, but I think you should reconsider. You have a really good retriever on your hands."
So, I took his advice, and stubbornly began training him. One thing led to the next, and I ran him in a hunt test. I could see it in his eyes as he ran that first test. It was a connection that he loved me more then I loved him. It was a look that he was begging to bond with the very person who didn't want to bond with him. And I wasn't the only one to notice. The judge, not knowing any background on us, came up to me and said,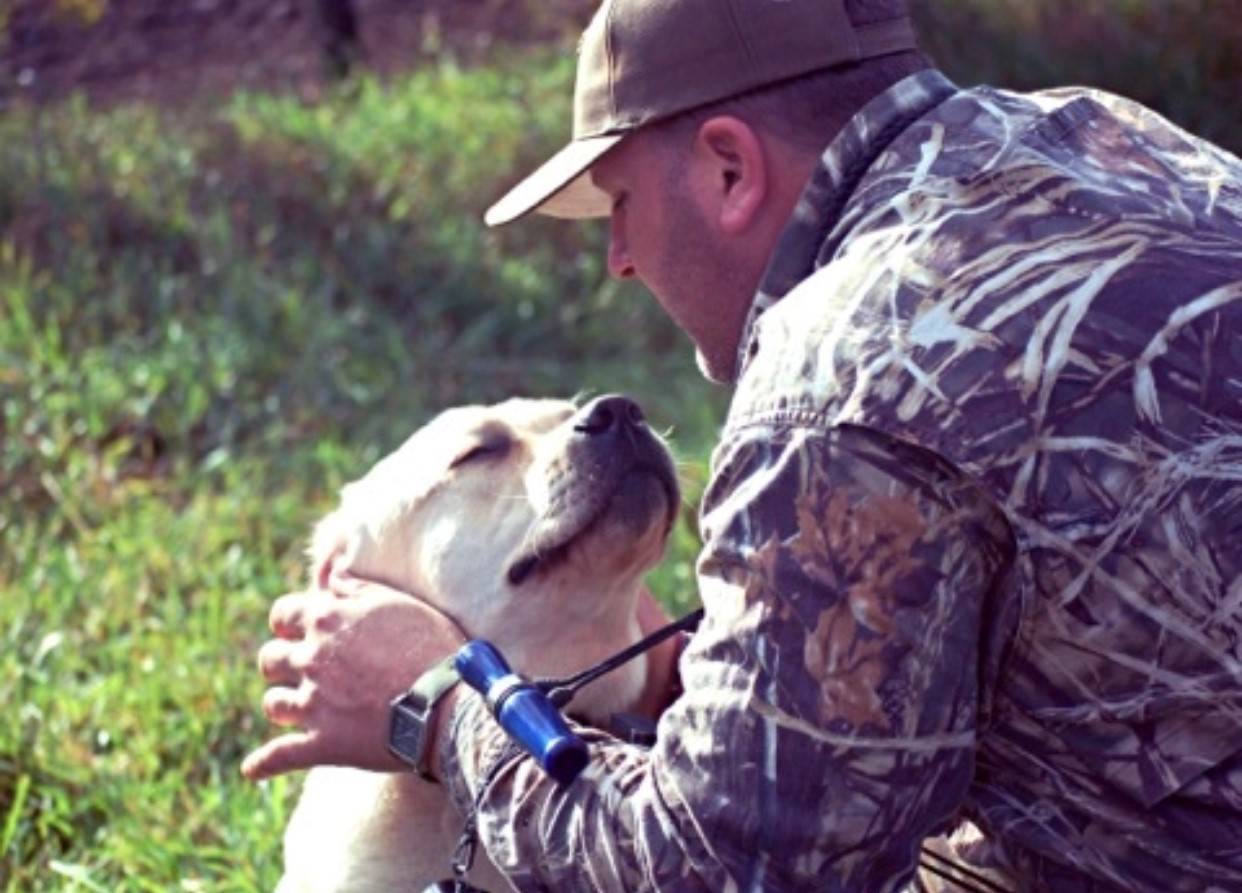 "You have an excellent retriever on your hands. You have a helleva bond, and I look forward to seeing the partnership between you two grow." From there, it was like a light switch clicked in me, and Boggsie and I started out on our journey together that neither of us planned or could foresee.
Fast forward a few months later and Ellie suffered a major knee injury the weekend before hunting season began. The injury required surgery and knocked her out of hunting for a full season. This moment for Ellie was kind've like the Drew Bledsoe/Tom Brady moment that kicked Boggsie and my relationship into overdrive.
At this point, Boggsie became the starting quarterback and boy did he shine!!! I hunted him all season and he just got better and better and better. And our bond got stronger and stronger and stronger.
An end-of-season trip to Missouri, Oklahoma and Arkansas was now upon us. Boggsie and I loaded up and headed out on what was to be our first of many trips around the country and Canada, embarking on an unlikely journey, solidifying an unlikely bond. Boggsie picked up over a 100 birds himself in that 8-day trip!
Our trips saw us traversing from the Pacific Coast to the Atlantic Coast, to the Gulf of Mexico, the Chesapeake Bay, the Great Salt Lake, Great Lakes, Mississippi River bottoms, the Prairies of the Midwest and Canada, and on and on and on.
As we are embarking on our journey around the country, we aren't calculating or tabulating anything. We are just having fun, strengthening our bond, enjoying the sights our great country has to offer, meeting new people, and experiencing different ways of hunting. And boy have we got to meet some awesome people!
Boggsie and I traveled the country for years. Then one day one of my very good friends from Texas, and I were talking. A little backstory of my good friend from Texas. He, his son, Boggsie and I have hunted many of these trips together around the country. He and his son are more of a family member to Boggsie, myself, and my wife and kids. His goal is to hunt all 49 waterfowl-huntable states (Hawaii has no waterfowl hunting season), his son's goal (who was 17 at the time of the conversation I'm about to explain) is to complete the North American Waterfowl Challenge (NAWC), harvesting all 41 North American Waterfowl Species.
So, about this conversation that started out innocent enough with my friend and I discussing plans for "next year's hunting trips," as we generally did every February/March. I asked him, innocently enough, how many birds his son needed to complete the NAWC. He responded by saying he thought he was at about the 35-36 mark. My friend's next statement was one that about knocked me over.
He said, "How many different species has Boggsie picked up? He's gotta be close. He's been on every trip with us and picked up just about every one of Gage's birds." I responded with, "I'm not sure. I have never paid attention or thought about it to be honest."
So, I hung up the phone, pulled up the NAWC list of species and started going down the list. I was in complete shock. In all our trips, Boggsie had picked up 35 of the 41 North American Waterfowl species, and I could vividly remember each one of those species he had picked up at least once. At the time, he needed a White-Winged Scoter, Cinnamon Teal, Sandhill Crane, Brant, Mottled Duck, and the ever-elusive King Eider.
We were this close! It was something I never set out for or even thought about. However, since we now knew, we kicked it into overdrive. I knew the King Eider may just be impossible for him to get. However, I started planning trips specifically to get the other 5 left on the list, taking Boggsie to 40 species retrieved on the North American Waterfowl Challenge.
We headed up to Lake Erie and got the white-winged scoter.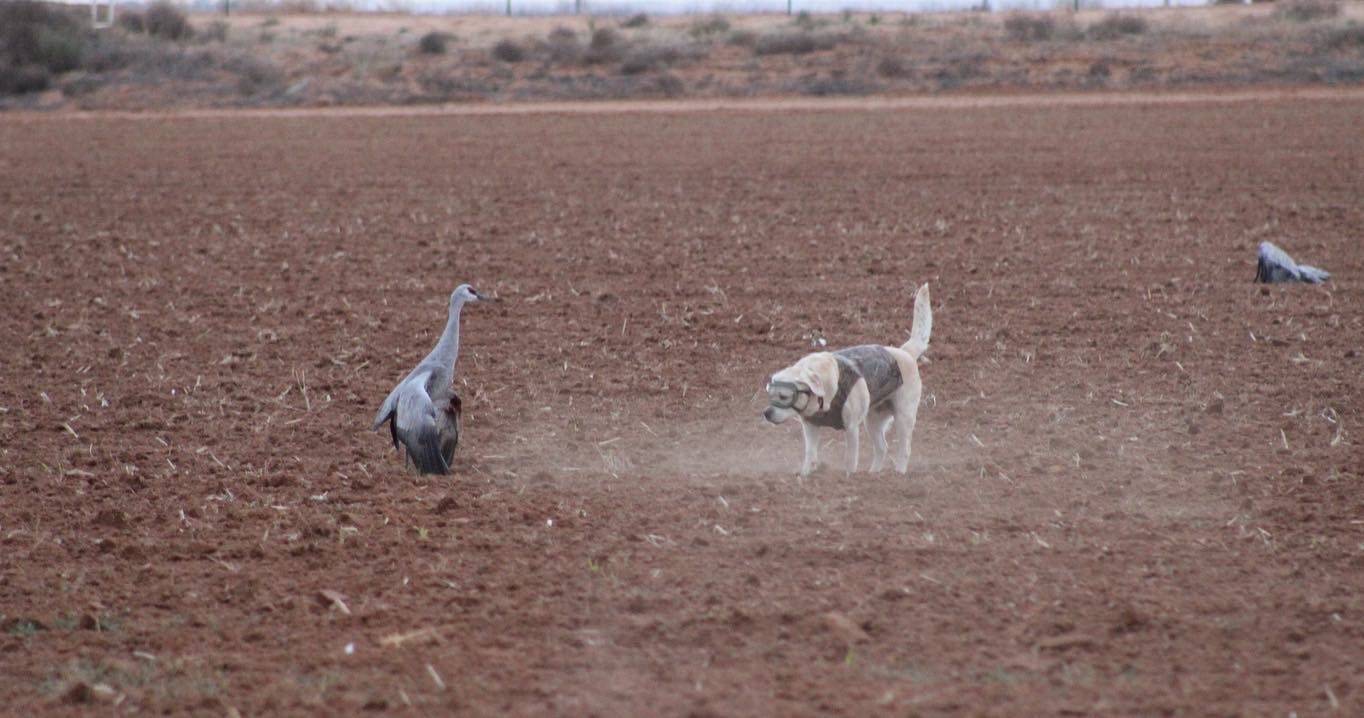 Then off to Long Island to pick up a few Brant. Next we headed out to West Texas and he picked up a few Sandhill Cranes. Then to California where he picked up a few Cinnamon Teal. Lastly, we drove down to Florida where appropriately enough we met up with my dear friend and his son from Texas. As the morning broke two Mottled ducks came in, and my friend and his son double-up on them. I lined Boggsie up and he went and picked up the first Mottled, came back and I lined him for the second one. Boggsie took off, offline.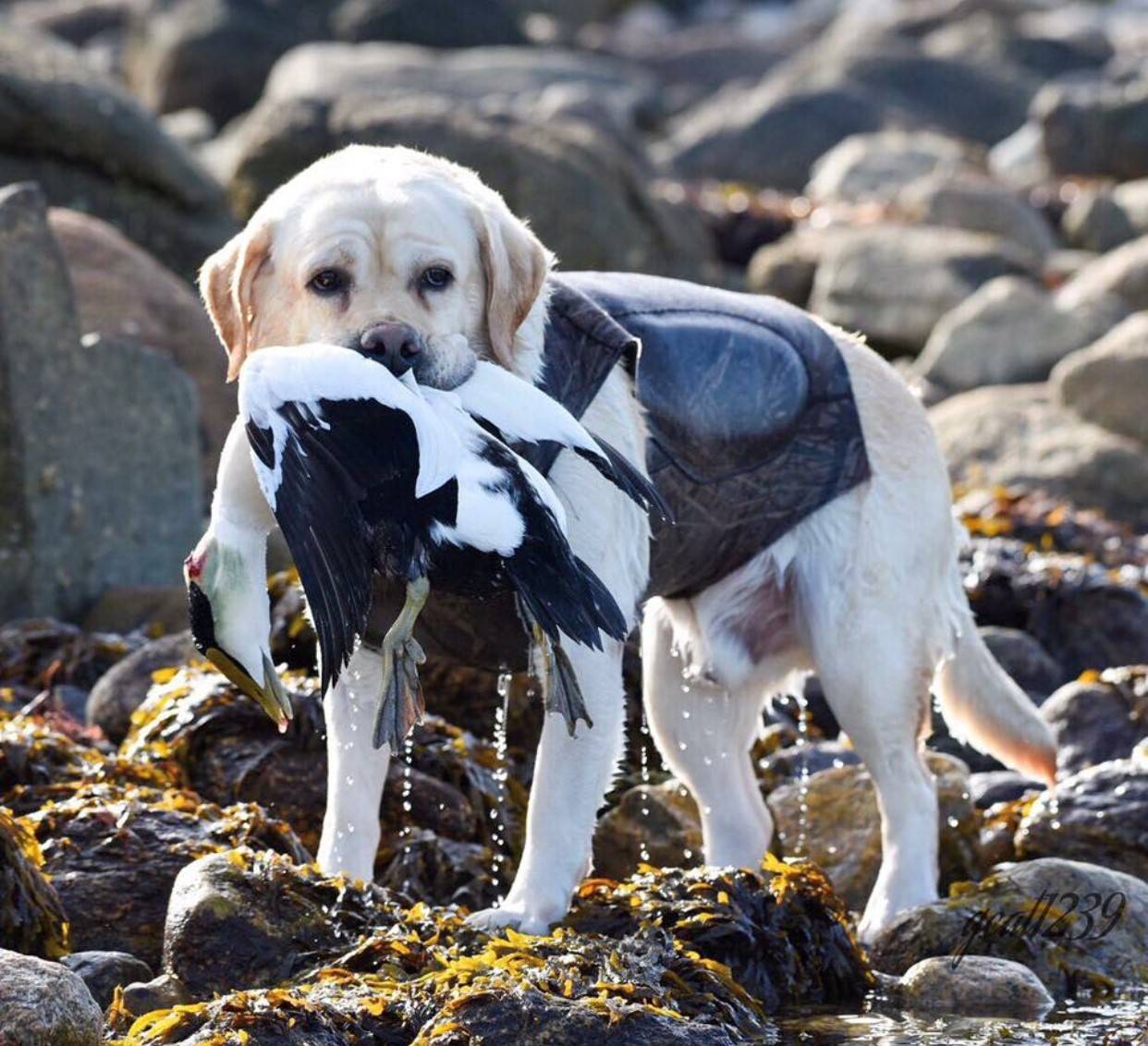 I was a little frustrated that he didn't take the line I sent him on. But I've learned with the unspoken bond we have, to trust him. The second Mottled evidently was a cripple and took off in the cover, unbeknownst to me, but not to Boggsie. Boggsie went into cover where I hadn't sent him and came out with that second Mottled duck.
What a trip this has been. Not the trip to Florida to get #40 out of 41. And not the fact that he's the only dog to ever have been known to accomplish the feat of retrieving 40 different North American Waterfowl Species. But a trip it has been with a dog that I have been lucky enough to forge an unlikely bond.
Boggsie and I have traveled to hunt together in 21 states and 2 countries, he's retrieved 40 different North American Waterfowl species, he's retrieved 33 banded birds, he's retrieved "first birds"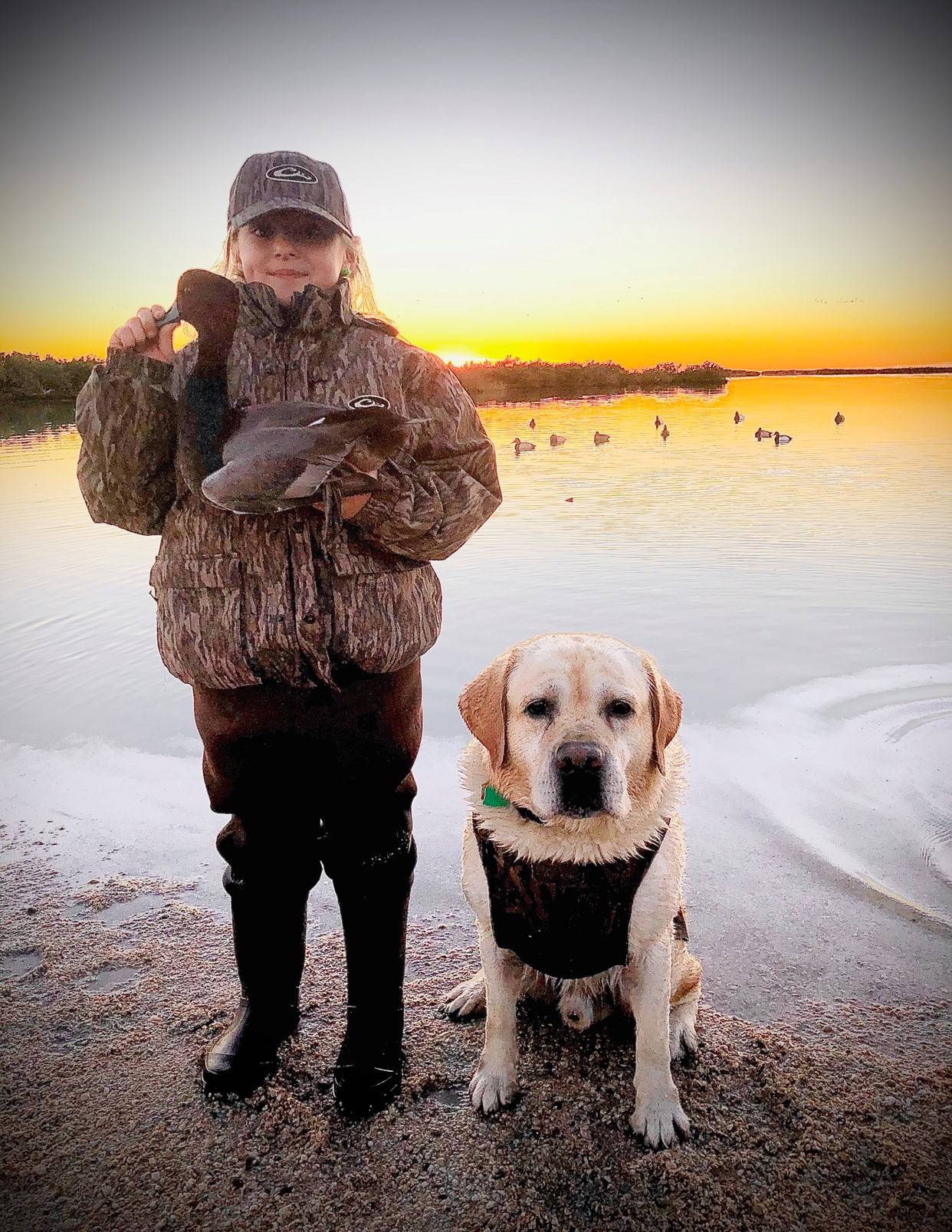 for my son and daughter, we have countless memories together, and when you add it all up, I'm the luckiest person to be able to have a bond with Boggsie as my partner thru all of it.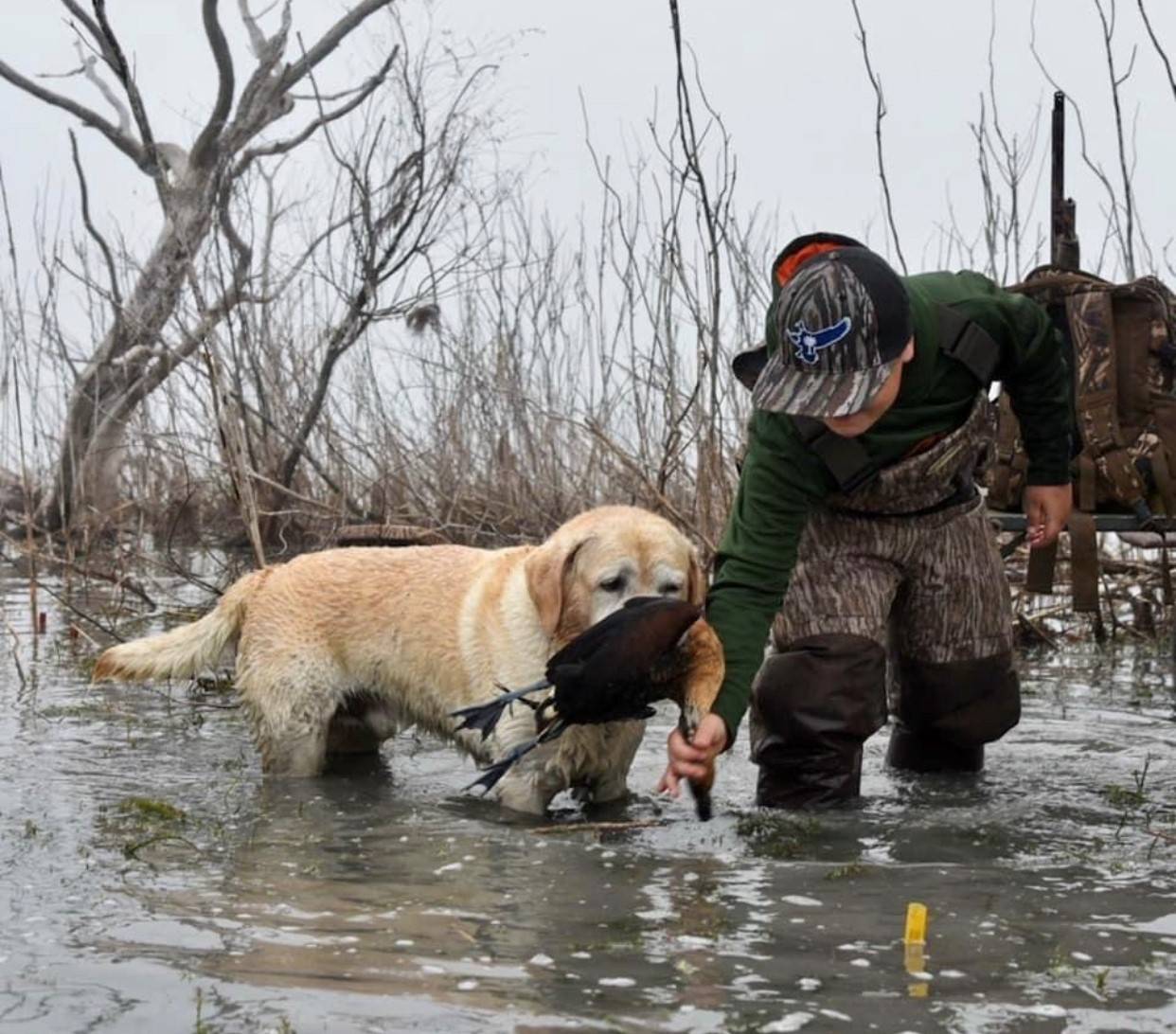 I've never had a dog like Boggsie, nor will there ever be another dog like Boggsie in my life. But I am proud to be part of his life. He has done more for my life, well beyond hunting, then I'll ever be able to re-pay him.
Photos taken by S. Grant Catlett 
---
About the Author
My name is Chad Hunt, and I am the National Director of Drake Waterfowl Systems' Promotional Staff. I live in the beautiful State of South Carolina where we are adorned by Palmetto Trees, great weather and the most wonderful people. I have been hunting waterfowl since I was kid when I fell in love with watching the passion of retrievers picking up birds. It was my love of dogs that fostered my love for waterfowl hunting.